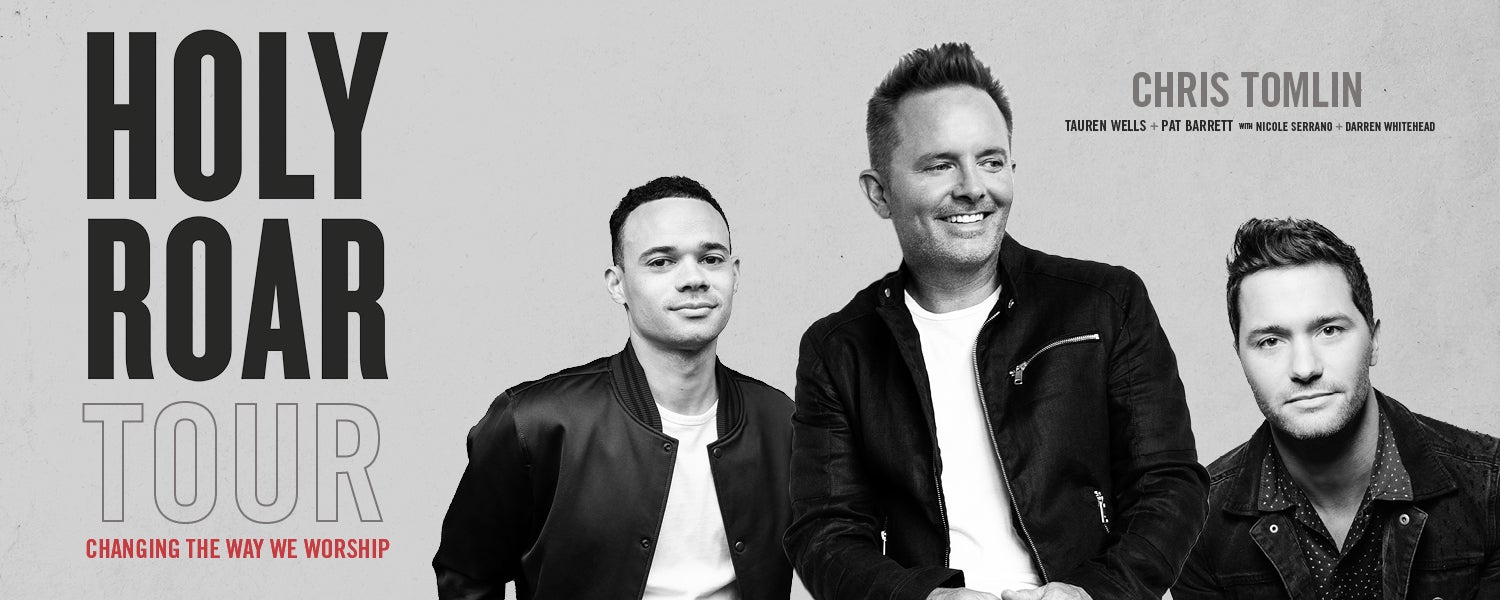 Chris Tomlin: Holy Roar Tour
Chris Tomlin: Holy Roar Tour
Event Information
Chris Tomlin is one of the most heralded singer-songwriters in the world who has amassed an impressive body of work. He has sold more than 8 million albums, 11.3 million digital tracks with 16 #1 singles. Chris is one of only four artists ever to receive the Sound Exchange Digital Radio Award for over 1 Billion digital radio streams, others include Justin Timberlake, Pitbull and Garth Brooks. The Grammy® winner's list of music awards include an American Music Award, 3 Billboard Music Awards, 21 Dove Awards, a BMI Songwriter of the Year Award and more. Chris' concert tours have sold-out venues in major cities including New York City's Madison Square Garden, The Forum in Los Angeles, Nashville's Bridgestone Arena and Red Rocks in Denver, among others. This spring, Chris launched his own imprint record label, Bowyer & Bow, in partnership with Capitol Christian Music Group.
Prohibited Items + Camera Policy
To help ensure your safety, Yuengling Center has strict security measures designed to help all guests have a safe and enjoyable experience while attending an event at Yuengling Center. We apologize for any inconvenience this may cause. Your Safety is always our first concern.
The Following items are not permitted at Yuengling Center Events:
Cameras meeting designated event standards will be permitted
Weapons of any kind

Sworn local, state, and federal law enforcement officers attending nonticketed university events (e.g. Commencement) who are within their jurisdiction and who are authorized by their respective agency to carry a firearm while off-duty, may enter the Yuengling Center with a concealed firearm upon presenting their badge and identification card to authorized security personnel

Pepper Spray or Mace
Wallet chains
Cans, Bottles and Glass
Long Chains/Sharp Spikes
Large Bags
Laser Pointers
Food, Drinks & Alcohol
Air Horns/Noise Makers
Offensive Banners/Posters
Sticks or Poles of any kind
Controlled Substances
Chairs, folding chairs or any other type of individual chair for use
Coolers
Wrapped gifts
Skateboards
Balloons
Checkout our in-arena dining options!